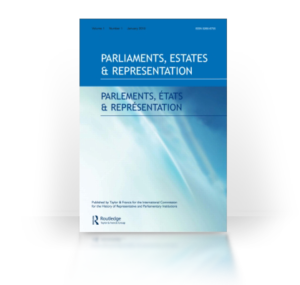 Parliaments, Estates and Representation is the journal of the International Commission for the History of Representative and Parliamentary Institutions. It is peer-reviewed and is published three times a year. It is concerned with political theory and the institutional practice of representation, as well as the internal organization and the social and political background to parliaments and assemblies of estates. The journal publishes scholarly articles covering the whole spectrum of the history of representative institutions up to the present day. It welcomes all contributions which fall within its field of interest, including papers presented at the conferences of the ICHRPI.
 Visit the journal website for more information
Dr John R. Young is the editor of the journal. If you are submitting an article or have any queries regarding a potential submission, please contact him directly.
Dr Coleman A. Dennehy is the reviews editor. If there is a recently published book that you would like to see reviewed, please contact him directly.
Editorial Board
Guido D'Agostino – University of Naples, Italy
Joseba Agirreazkuenaga – University of the Basque Country, Spain
Peter J. Aschenbrenner, Independent Scholar, USA

Bertrand Augé – University of Pau, France
Thomas N. Bisson – Harvard University, USA
Wilhelm Brauneder – Honorary Past President, Austria
Maria Helena da Cruz Coelho – University of Coimbra, Portugal
Henry Cohn – University of Warwick, UK
Maria Sofia Corciulo – Honorary Past President, Italy
Jean Garrigues – University of Orléans, France
Sandro Guerrieri – University of Rome, La Sapienza, Italy
Michel Hébert – University of Quebec at Montreal, Canada
Johannes Helmrath – Humboldt University, Germany
Lothar Höbelt – University of Vienna, Austria
Eva Jedruch – Independent scholar, USA
Georgia Karvanaki – Independent scholar, Greece
Gerald Kohl – University of Vienna, Austria
László Komáromi – Pázmány Peter Catholic University, Hungary
Macarena Ponce de León – Pontifical Catholic University of Chile, Chile
Alastair Mann – University of Stirling, UK
Estevăo de Rezende Martins – University of Brasilia, Brazil
Mario Di Napoli – The Senate of Italy, Italy
Sorin Radu – University 'Lucian Blaga' din Sibiu, Romania
John Rogister – Honorary Past President, UK
Paul Seaward – The History of Parliament, UK
Akira Shibutani – Shimane University, Japan
Francesco Soddu – University of Sassari, Italy
Joachim Stieber – Smith College, USA
Magdolna Szigeti – Pázmány Peter Catholic University, Hungary
Mikel Urquijo – University of the Basque Country, Spain